---
happy M E M O R I A L day !!
hope everyone had a wonderful weekend full of fun, sun and some relaxation! my and my little family took it easy and stayed home for the most part since i go back to work tomorrow after being off for five months on maternity leave! to say i'm anxious and super sad about leaving my sweet baby c is an understatement! i honestly don't know how mamas go back to work -- i literally tear up every time i think about it and i am sure i'll be a wreck on tuesday morning! i work twelve hours so i won't be seeing my sweet girl alllll day, which will be a HUUUUUUGE adjustment for all of us! luckily for us, she will be home with her daddy so i know i have nothing to worry about, but i am having a hard time wrapping my brain around the fact that i have to leave her all day.. ughhhh ok i'm down with my mama sob story haha!
on to more important things, first off -- again happy memorial day! thank you to those who have served our country and for all the families of those who have served. we are free because of the brave, and today is their day to be remembered and honored. again, thank you.
---
---
---
---
of course with the holiday, comes lots of sales and one of my favorite sales happens to fall this past weekend -- the
N O R D S T R O M half-yearly sale
!!! i wrote about it in my last post you can find HERE! i rounded up some of my favorite clothing, handbags and shoes for women! there are seriously some amazing deals! so go check that out! this super cuuuuute
little white romper
i'm wearing here is from the sale and is under $30! say whaaaat?! i know crazy -- i literally want everything and my wallet and my hubby are not too amused by that haha oops! i can't help it! don't you find the half-yearly sale to be ahhhhmazing?? :)
---
annnnnd speaking of nordstrom, i have an amazing GIVEAWAY starting today!!! whoop whoop!! check it out below!!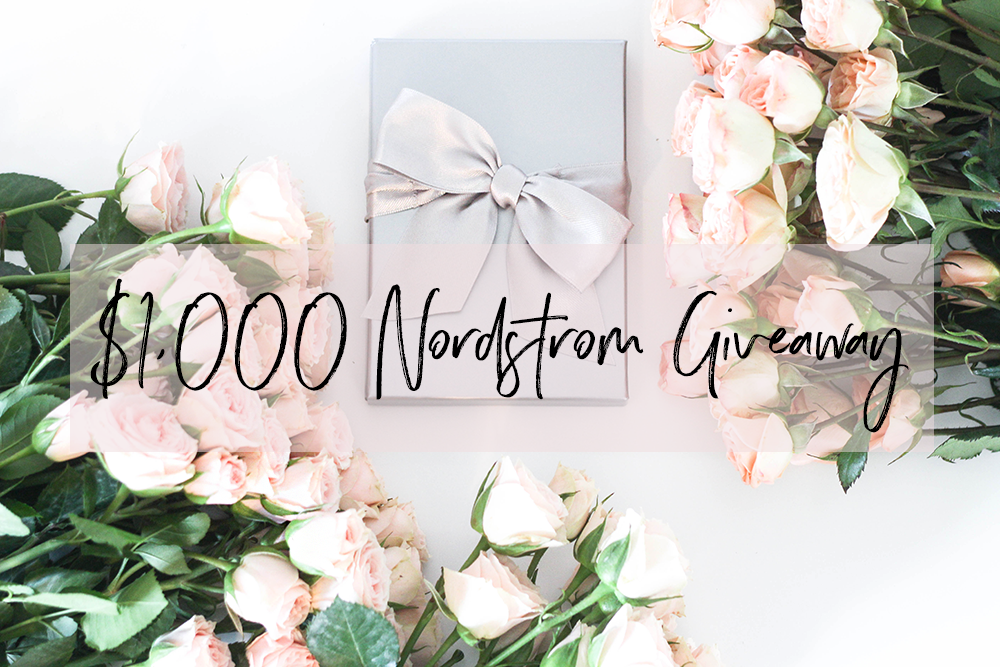 ---
This week I am teaming up with an amazing group of ladies to bring you an INCREDIBLE giveaway. One lucky reader will win a $1,000 Nordstrom Gift Card.

Money Can Buy Lipstick
|
Coming Up Roses
|
Marvelous in the Midwest
|
Glitter and Gingham
|
Nines to 5
Posh in Progress
|
RD's Obsessions
|
Blush & Blooms
|
Pretty in Pink Megan
|
So Heather
DTK Austin
|
Modern Day Moguls
|
The Trendy Tomboy
|
My Boring Closet
|
Mrs Casual
Rose Gold Lining
|
Absolutely Annie
|
Sunsets & Stilettos
|
Glass of Glam
|
Topknots & Pearls
I am Style-ish
|
La Passion Voûtée
|
Sass & Sun
|
The Closet Crush
|
Blondes & Bagels
Lizzie In Lace
|
A Lily Love Affair
|
Celebration Stylist
|
Red Soles and Red Wine
|
Style Weekender
Boho Style File
|
Makeup Obsessed Mom
|
Trendy Chickadee
|
The Beauty Beau
|
Twenties Girl Style
Sabby Style
|
The Heart of the House
|
Street Style Squad
|
The Middle Page
|
A Lo Profile
|
Dashing Darlin

Use the widget below to enter the giveaway. The more "tasks" you complete, the more entries you will receive. The winner will be announced (on the widget) within 2 weeks of the giveaway ending. The giveaway is open to the U.S. and Canada.
a Rafflecopter giveaway
---